---
By smashIOctober 25, 2022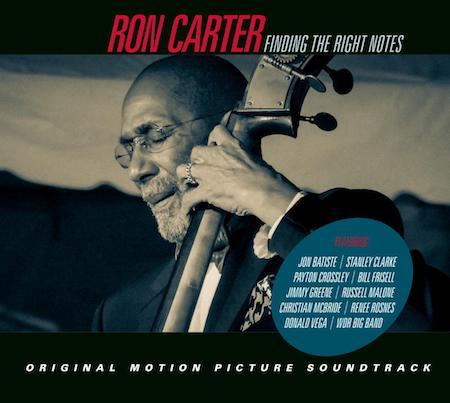 Producer and director Peter Schnall's process in making his new PBS documentary Ron Carter: Finding the Right Notes started off simple enough: he saw Carter live at the Blue Note in New York, then wrote her a letter. He then visited Carter at his home.
"It was the most wonderful, interesting and surprising conversation," said seven-time Emmy and Peabody Award winner Schnall. "We chatted for two hours, not so much about music, but about life. It was to be the start of an amazing journey together.
Schnall ended up interviewing Carter at home, on the road, and in the studio. After six years in the making, the documentary film is out — it aired on PBS on October 21 — offering a comprehensive look into Carter's life.
Schnall transports the viewer through his early years as a high school cello student, through his stint in the '60s Miles Davis Quintet, and through his solo career.
Accompanying the documentary, an exclusive soundtrack of previously unreleased performances by Carter was also released on October 1 as a CD/double vinyl from Freiburg, Germany, In+Out Records.
The album features a filmed live performance at the Newport Jazz Festival of Carter's original classic "Soft Winds" and an impromptu bass duet of "Willow Weep For Me" with Christian McBride at the National Jazz Museum in Harlem. It also includes songs from two New York Blue Note club sessions with Bill Frisell on "My Man's Gone Now" and an early recording with fellow bassist Stanley Clarke on "Bag's Groove". Additionally, Carter meets Jon Batiste at the Power Station studio for a chat and eventually a song: "Sweet Lorraine".
Batiste is also in the documentary. Towards the end of production, Schnall had thought about revisiting Carter's story, but then decided to have someone else onscreen. He invited Batiste, who was once a student of Carter while attending Juilliard. Their videotaped conversation lasted two hours. "I was hoping the two would play together," Schnall said. "When Ron arrived with his bass, I knew something was going to happen." comics
---
DeFrancesco recorded his first album and toured Europe as a member of Miles Davis' band at the age of 17.

August 30, 2022 11:45 am

The music world is mourning the unexpected passing of Joey DeFrancesco, who died August 25 of a massive heart attack,…

"My dad saw Hendrix open for the Monkees here in Jacksonville, and he told me that was his first time dropping acid. Pretty intense," Trucks said,

Sep 20, 2022 2:05 PM

It's hard to imagine the magnitude of the loss Derek Trucks must have felt in 2017. First, his uncle Butch Trucks, a…

Gazarek is happy to have the chance to present jazz to a wider audience of this planet at that time.

Sep 20, 2022 11:39 AM

Of all the things Sara Gazarek imagined, hoped or dreamed of doing in her life, singing on stage as an alien…

Pharoah Sanders brought beauty and spirituality to the forefront of the avant-garde.

Sep 27, 2022 3:47 PM

Pharoah Sanders, the saxophonist and composer who became famous for his work in the mid-1960s with saxophonist John Coltrane,…

Lewis, a three-time Grammy winner, has had huge success jumping from the jazz charts to the pop charts.

Sep 13, 2022 1:17 PM

Jazz pianist, three-time Grammy winner and jazz master NEA Ramsey Lewis, who successfully transitioned from jazz…